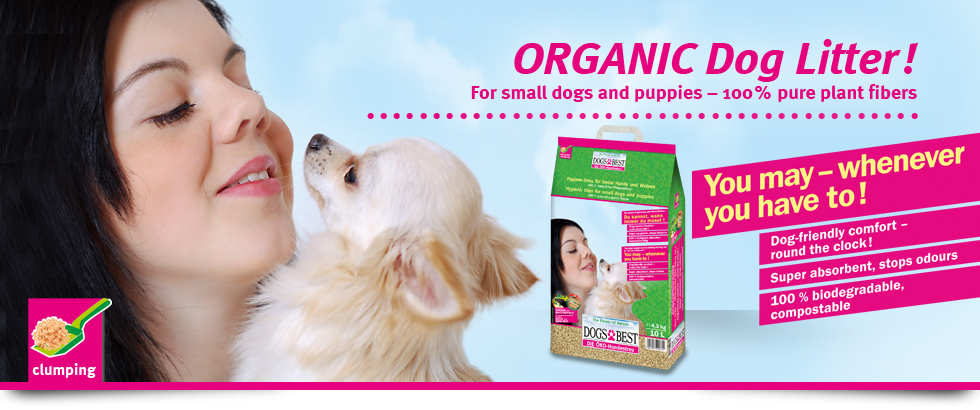 Eco Litter for small dogs and puppies
Clumping eco dog litter made from 100% pure plant fibres for clean indoor hygiene of small dogs and puppies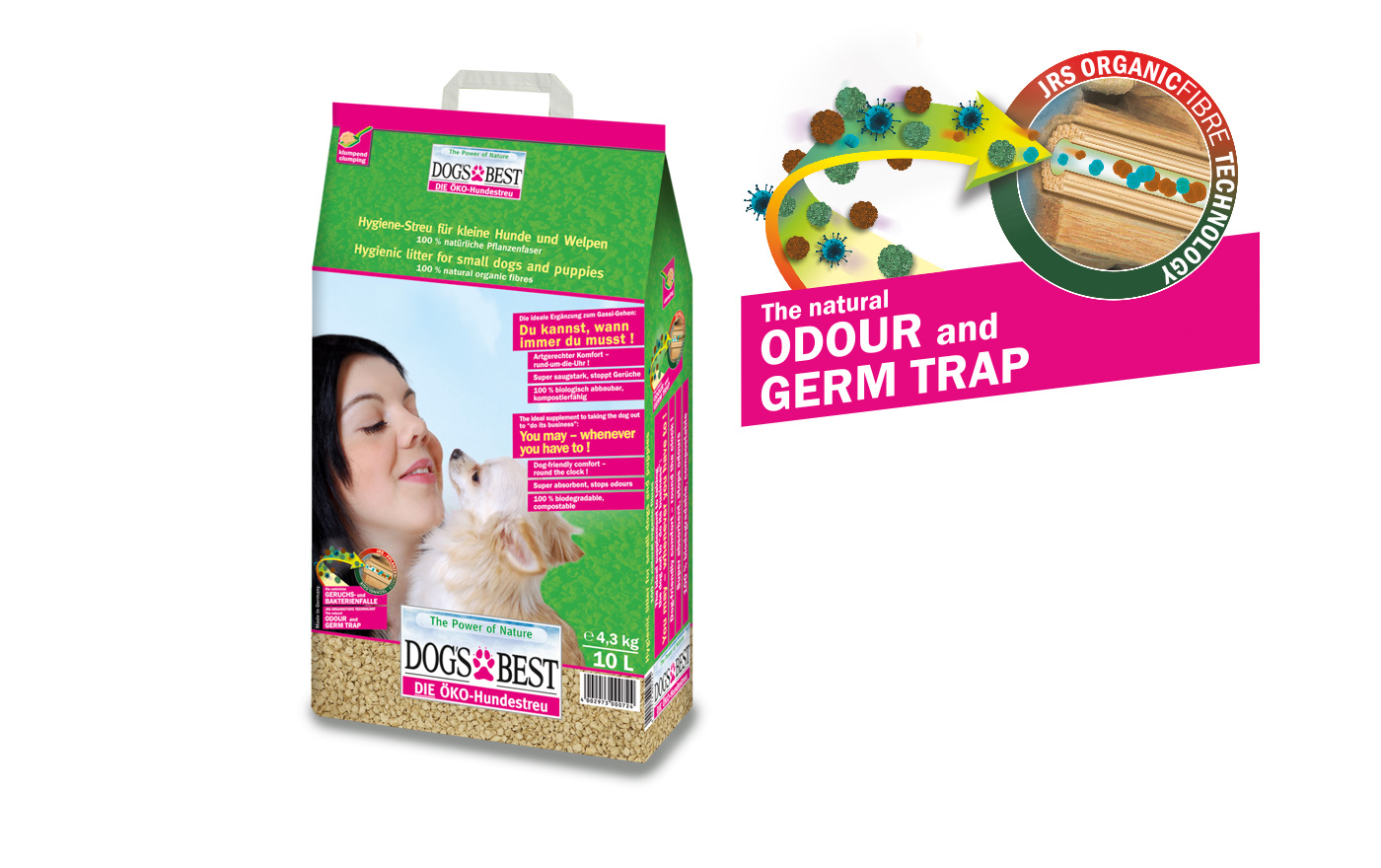 Advantages that make an impression
The ideal addition to taking the dog out to 'do its business': 
 You can still go – whenever you need to!
Dog-friendly comfort – round the clock!
Super absorbent, stops odours
Thanks to JRS-ORGANICFIBRE-TECHNOLOGY: The natural ODOUR and GERM TRAP
100% biodegradable, compostable
Very efficient and economical thanks to the formation of clumps
Soiled clumps can be disposed of in a normal household toilet! * 

Easy to handle
Fast acceptance and adaptation


* Be sure to check your local disposal regulations!
DOG'S BEST is available in
4,3 kg / 10 L bags*
The ideal addition to taking
your dog out to 'do its business':
Dog's toilet with a special litter
DOG'S BEST Eco Dog Litter specially developed for the natural needs of small dogs and puppies, is the practical alternative to taking your dog out to 'do its business' and always on hand when it needs to 'go' – also outside of its normal routine!
In our modern, urban lifestyle it's unfortunately not always possible for dogs to 'do their business' in the open. In addition, working dog owners or frail people aren't always able to walk their dog regulary or exactly the right moment.
For cats, the cat litter has long been used as a safe solution to the problem in home and appartments.
Please note!
To avoid any misunderstanding, DOG'S BEST is a helpful hygiene product for the home but is certainly not a replacement for daily exercise and walks! Daily walks are the basis of healthiness and ensure fun and fitness for dog and owner!
DOG'S BEST is the perfect option for clean,
comfortable, natural indoor hygiene – ideal for
small dogs and puppies
DOG'S BEST – recommended by breeders
JRS, J. Rettenmaier & Söhne, one of the world's largest manufacturers of animal hygiene products has respondend to the needs of the market and, together with experienced breeders and dog owners, developed a special litter for dogs that meets the special requirements of small dogs and puppies.
The JRS research laboratory has developed a special fibre structure that ensures the best absorption and odour retaining characteristics, based on years of experience with successful cat and small animal litter products from natural plant fibres.
Super absorbent, stops odours
Dogs like the natural scent and can sniff and scrabble just like they always do. Quickly accepted and soon routine, no aggressive ingredients.
DOG'S BEST is super absorbent, extremely odour-binding and a convincing indoor solution for small dogs and puppies. Thanks to the unique JRS-ORGANICFIBRE-TECHNOLOGY. 
DOG'S BEST functions like natural ODOUR and GERM TRAP: Moisture and ODOUR are absorbed quickly and long-term by the fibres' ultrafine cabillary system. This stops ODOURS developing over a long period of time – all without chemical additives!
---
Tips from Dog Pro!
Familiarsation with DOG'S BEST and the litter tray
The familiarisation with the litter tray can be best trained during puppyhood. Just as your puppy or young dog gets used to 'doing their business' outdoors, so they can get used to the litter tray. As the rule, puppies soon understand where they should 'do their business' (around 1-2 weeks). Adult dogs often learn more quickly.
Acceptance commands
Introduce a clear command for 'toilet' from the beginning. Give your dog lots of praise when he uses the litter tray. Try to discourage the dog or puppy from leaving the tray before completing its  'business', or if you see it 'doing its business' away from the litter tray.
The best place for the training phase
Select a restricted location for the litter tray during the training phase where you can keep an eye on it during your normal activities and that you can get to quickly. For puppies a playpen and for adult dogs a restricted area, such as a room with a baby gate.
If it doesn't work immediately
If your dog hasn't got used to the litter tray within a week or so, place it in the litter tray at regular intervals (puppies every 30 minutes, adult dogs every 3 hours) and wait until it has completed its 'business'. Afterwards give plenty of praise. Use every opportunity to train it in the first two weeks and clean the litter tray regularly. Should you have problems with introducing your dog to DOG'S BEST, an experienced dog breeder or trainer can help you.
DOG'S BEST Instructions for use
Filling
Fill the litter tray 5-6 cm deep with DOG'S BEST and familiarise your dog with it by sitting it in the tray, or better still, let the dog discover the tray for itself.
Cleaning the litter tray
To clean the litter tray, simply remove the clumped particles with a special shovel. (Dispose of in accordance with local regulations in the normal household refuse or domestic toilet). A complete change of litter is only necessary when a lasting odour develops.
Tips for the right disposal of the cat litter in the toilet:
Be sure to check your local disposal regulations!
Very important: only put single clumps into the household toilet!!!
Do not dispose of more than one clump at a time, please.
Only put single clumps into a household toilet. Allow the clump to dissolve before flushing until the material has been washed away completely.
The normal domestic toilet isn't suited for disposing of used litter tray filling, it can be disposed of in bio-waste, or compost according to local regulations.
Natural quality products
from JRS petcare
DOG'S BEST dog litter is a pure natural product – 100% made of renewable vegetable raw material, without any synthetic, chemical additives.
Only the finest plant fibers, extracted from untreated native fir and spruce, – completely free from chemical additives – are used in the manufacture of DOG'S BEST dog litter.
Their utilization serves the preservation of natural healthy forests, DOG'S BEST dog litter is PEFC certified.
At the same time, our plant fiber products are subject to the environmentally compatible natural biological cycle – from the plant seeding to the rotting biodegradable product.

---
Questions or suggestions about DOG'S Best?
You can reach us by phone at the following number
+ 49 7967 152 399